November 29, 2023
Welcome to our website!
Jason and I have been in this business for over 25 years, serving small to medium size clients, just like you, for their tax and accounting needs. Our clientele represents a broad spectrum of tax situtions and industries. We are a small CPA firm consisting of Jason and myself and Donna our administration assistant. We provide a custom and personalized service that will be designed to fit your needs.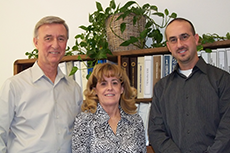 We are conveniently located at the cross roads of Orange County, in the City of Orange, California near where the 91 and 55 freeways collide. There is even a map in our
Contact Us
tab. We have been at the same location for over 20 years.
We offer a free no obligation initial consultation. So you have nothing to lose. Your can make an appointment for a face to face meeting or we can begin by corresponding by e-mail and let it progress from there.
While you are here take some time to look around our website. You can:
Read our newsletter to obtain important information on current topics.
Use the Financial Calculators to assist you in budgeting, financial planning, or determining loan payments.
Register Your e-mail Address to receive important announcements through Service PLUS!
Visit our Links tab where you will find a number of interesting research topics and a little fun too. You can even find out where your refund is.
Review Tax and Financial Topics of Interest in the Additional Pages section of our site
Please browse the pages of this site and feel free to e-mail any questions, suggestions or other feedback. Visit often as current news impacting your financial situation will be outlined here.